Shane Brumfield, Radiology Technologist at Logan Regional Medical Center, Honored as Finalist for ScionHealth's Inaugural Monarch Caring and Community Award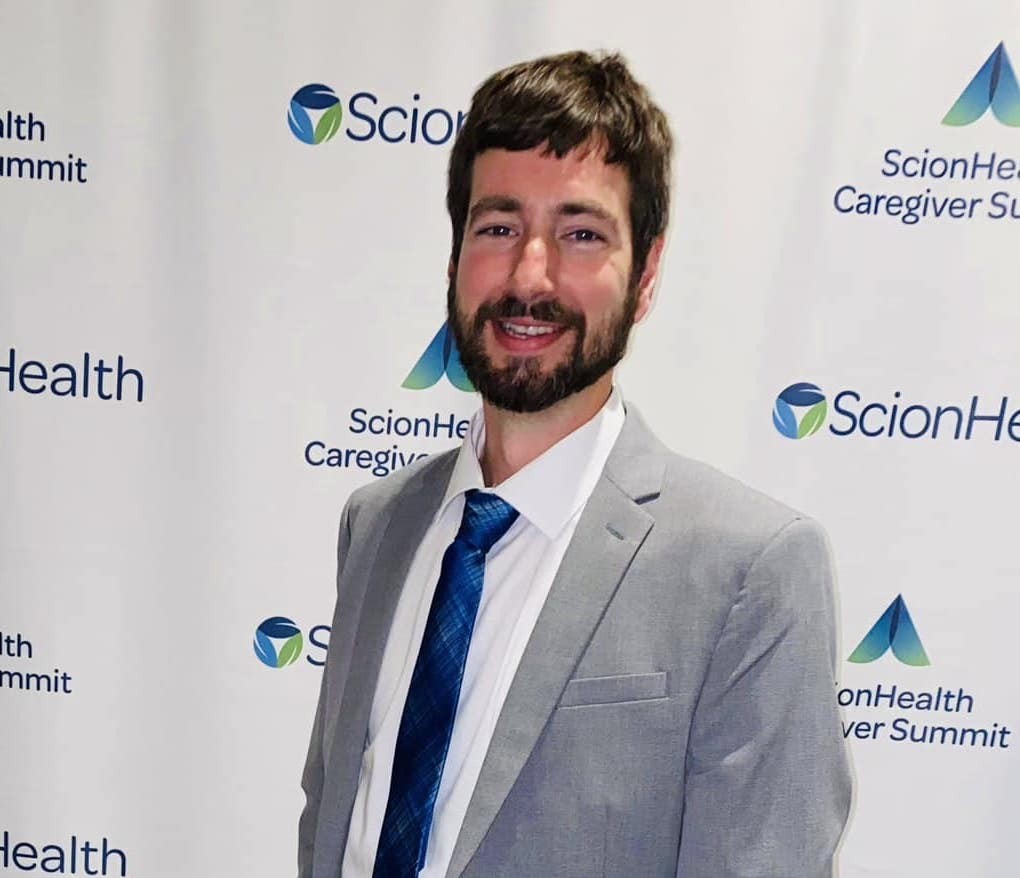 Shane Brumfield, a radiology technologist and clinical instructor at Logan Regional Medical Center (LRMC), was recently honored as one of the finalists for ScionHealth's Monarch Caring and Community Award, presented annually to the company's exceptional caregivers who consistently go above and beyond to deliver excellent patient care, elevate the patient experience and support their colleagues and communities.
He was one of only 79 award finalists within the health system that has approximately 22,000 total employees nationwide.
Brumfield was elected by LRMC staff from among four nominees and represented the hospital at parent company ScionHealth's Caregiver Summit held November 2 in Louisville, Kentucky. Each of ScionHealth's 79 hospitals were represented by one finalist, and from that group, two Monarch Award recipients were chosen, one from Texas representing the company's community hospitals and one from New Mexico representing its specialty hospitals.
"When I was first nominated, I saw the other nominees from our facility and thought those would be good ones and saw my name and went, 'Oh Wow!'" recalled Brumfield. "To find out I was voted the finalist for our hospital ‒ that was definitely a good feeling, and it's a little bit humbling that those people think you do a good job and fit the description of the Monarch Award."
As a radiology technologist in his 16th year at LRMC, Brumfield performs X-rays and other diagnostic imaging examinations on the hospital's patients. While he is described by his peers as a skilled, detailed clinician, his customer-first mindset is one of the traits that makes him stand out. It helped him win the hospital's inaugural "4U Employee Service Award" years ago and earn the honor as Logan Regional's first-ever finalist for the Monarch Award in 2022.
"Shane seems to exemplify everything about customer service and positivity in an employee ‒ he's that person who goes the extra mile beyond his department and the hospital," said David Brash, CEO of Logan Regional. Brash noted how Brumfield would take patients to their cars when in wheelchairs or spend extra time making sure their test is performed correctly the first time, so the patient wouldn't have to make a return trip.
"I don't know if there's anything he intentionally does, it's just him – it's just his personality and way of doing things – to go the extra mile," Brash said. "It's something you would definitely like to figure out, because you'd like to replicate it in yourself and everyone."
Chris Reed, Director of Radiology at LRMC and Brumfield's supervisor, said Brumfield is one of those upbeat people whose attitude is contagious. He said that attitude, combined with Brumfield's passionate advocacy for the hospital's patients, make him an exemplary caregiver.
"Any time Shane is involved on a committee within the hospital, he takes anything and everything that's being done and he looks at it through the patients' eyes," said Reed. "Like, 'OK, that's the best way for Logan Regional to do it, but how does that look when you are the patient?' He doesn't hesitate to voice if something is going to be inconvenient for the patient."
Said Brumfield, "I always think about treating each patient like (the person is) my grandmother. If you always go at it with that attitude, then you are maybe going to take them down the hall to their next spot or help them out to the car or show them whatever it is they are looking for, even if you just met them in the hallway and they aren't even your patient.
"With each patient you come in contact with, there's an opportunity for it to be a good encounter, a positive encounter, or there is an opportunity for it to be a negative encounter. The more times we can leave the patient with a positive encounter, the better. You can't always do that, but the more times we can, the better."
Brumfield graduated from Southern West Virginia Community and Technical College in 2006 and started as a flex employee at the hospital shortly thereafter. He and his wife, Jade, who also works at Logan Regional, have three children.
The Kermit, West Virginia, resident was among nearly 300 nominees for the Monarch Award from ScionHealth's 61 specialty hospitals and 18 community hospitals across 25 states. He attended ScionHealth's 2022 Caregiver Summit along with his hospital colleague and fellow Monarch Award nominee Megan O'Brien, Director of Women Services and Pediatrics. Logan Regional's other two nominees for the Monarch Award were Teddy Belcher, RN, and Katrina Thompson, Pharmacist.
To learn more about ScionHealth's Monarch Caring and Community Award, visit scionhealth.com/employees/monarch-caring-and-community-award.
Read All Posts