Logan Regional Medical Center partners with WVJC for hybrid nursing program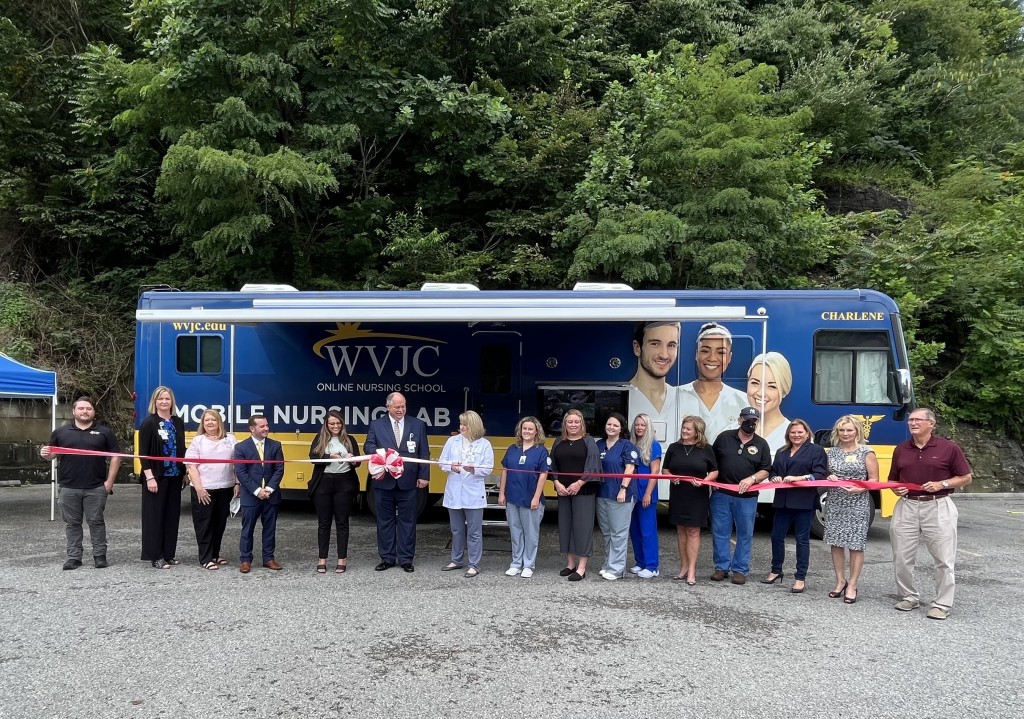 Logan, W.Va. — West Virginia Junior College (WVJC) and Logan Regional Medical Center held a ribbon cutting ceremony yesterday to celebrate their new innovative partnership targeted at solving the rural healthcare crisis.
WVJC's Hybrid Online Nursing Program was launched to serve 19 counties to create access to continuing education opportunities in rural West Virginia. This particular program is aimed at the state's rural healthcare disparities and workforce shortages.
"This program will aid in creating new career opportunities in healthcare for those in our rural communities for years to come while bringing critical healthcare services to the areas of West Virginia that need it the most," said Chad Callen, CEO at West Virginia Junior College. "Further, the hybrid-online delivery method is essential to opening access to non-traditional students who cannot put work or other obligations on hold to go to school."
Individuals enrolled in the program take classes online while attending lab and clinical experiences in their regions during evenings and weekends. A Mobile Nursing Lab will help complement the education offered in the program syllabus, allowing students to practice their skills and gain a grasp of the nursing field.
"Our system allows us to integrate our accelerated 18-month program directly into the hospital system, thereby improving the student experience," Callen explained. "Additionally, student learning through our program is enhanced by our mobile nursing labs which travel around the state to supplement training and provide access to advanced technology not normally available in rural cmmunities."
The West Virginia Junior College Mobile Nursing lab – a 38-foot specialty-use vehicle which has been retrofitted with two simulated hospital rooms containing high-fidelity simulation technology for adult, obstetrics, and pediatrics – was available for tours after the ribbon cutting.
"Our entire state is experiencing a nursing shortage," stated David Brash, CEO at Logan Regional Medical Center. "This partnership allows us to network directly with and train students at our own hospital so they can work with us immediately after graduating."
Students in Logan County are served by affiliate partner Logan Regional Medical Center. WVJC is building additional partnerships across the state.
###
Logan Regional Medical Center
A part of ScionHealth®, Logan Regional Medical Center is a 132-bed acute care facility in Logan, West Virginia that is accredited by The Joint Commission (TJC). The hospital offers a full range of health care services, which include: recently added Da Vinci Robotic Assisted Surgery, the recently expanded Endoscopy Unit, Cardiac Rehab, a 64-slice CT, 24-hr. Emergency Care, Intensive Care Unit, Inpatient and Outpatient Surgery, Laparoscopic Surgery, Digital Mammography, MRI, Nutrition Counseling, Physical Therapy, Radiology, an Inpatient Rehab Center, Respiratory Therapy, a Sleep Disorders Center, Speech Therapy, Respiratory Therapy, Ultrasound, Women's Services and ongoing community education. The hospital continues to focus on improvements to enhance services and fulfill our mission of making communities healthier.
West Virginia Junior College
West Virginia Junior College is an academic institution established in Charleston in 1892. WVJC has since expanded, opening campuses in Morgantown, Bridgeport, and Online. WVJC puts the success of its students first, offering various programs in different career pathways to match skills and education with workforce opportunities. For information on WVJC, visit www.wvjc.edu
Read All Posts