Logan Regional Medical Center Launches Robotic Assisted Surgery Program with the Addition of New Surgical Robot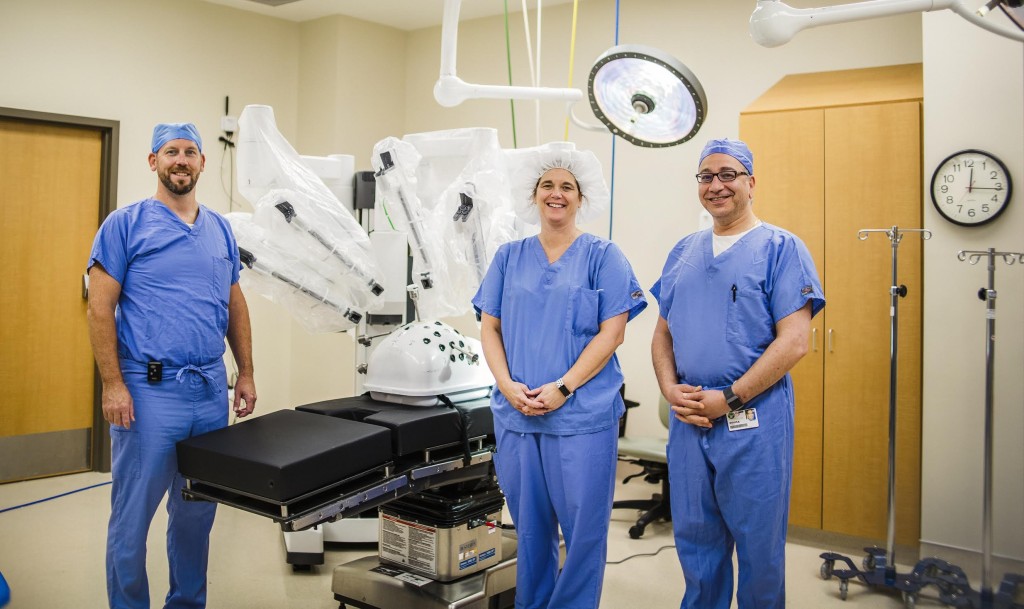 Logan Regional Medical Center recently announced that the hospital has launched its robotic surgery program with the arrival of a new surgical robot. The new, innovative technology – a 1.2 million dollar investment – assists specially-trained surgeons in specific surgical procedures for general surgery and gynecological surgery.
Robotic surgery, or robotic-assisted surgery – allows surgeons the ability to perform complex procedures with added precision, flexibility and control than with many conventional techniques. Patients may benefit from less pain, faster recovery times, fewer complications, shorter hospital stays, smaller incisions and less noticeable scars.
"We are proud to offer innovative robotic technology to help enhance health outcomes for our patients," said Dr. James Paugh, general surgeon at LRMC. "Robotic surgery is one of the many ways we are fulfilling our mission of Making Communities Healthier and providing the highest quality care close to home for those we serve."
General surgeons James Paugh, MD and Jodi Cisco-Goff, MD as well as OB-GYN Emad Mousa, MD have all received specialized training on the new robotic tool, and the first robotic surgery was performed on September 22, 2021.
"Robotic technology is transforming the way we perform surgeries at Logan Regional Medical Center," said Dr. Jodi Cisco-Goff. "Through this new, advanced tool, we are able to personalize surgery in a more precise way for each patient."
The robotic surgical system is a tool that utilizes advanced, robotic technologies to assist your surgeon with your operation. It does not act on its own and its movements are controlled by your surgeon. The surgeon is 100% in control of the robotic-assisted system. The robotic surgical system has a 3D high definition (3D-HD) vision system, special instruments and computer software that allow your surgeon to operate with enhanced vision, precision, dexterity and control. The 3D-HD image can be magnified up to 10 times so your surgeon has a close-up view of the area he or she is operating on. The robotic instruments have mechanical wrists that bend and rotate to mimic the movements of the human wrist -- allowing your surgeon to make small, precise movements inside your body. And, robotic software can minimize the effects of a surgeon's hand tremors on instrument movements. The robotic surgical system is an effective, minimally invasive alternative to both open surgery and laparoscopy. Some of the surgeries/procedures that will be utilizing the machine are appendectomies, cholecystectomies, hiatal hernias, hysterectomies, and nissen hernias. While many patients are a candidate for robotic surgery, Logan Regional Medical Center wants to remind patients to consult with their doctors about the best surgical method for their individual needs.
Dr. Mousa echoed his colleagues, saying "Robotic Hysterectomy surgery is a very unique and creative approach to help women with tiny incisions for less pain and quick recovery."
To learn more about Logan Regional Medical Center's surgical services program and technology, please visit LoganRegionalMedicalCenter.com. To find a robotically trained surgeon, call our Physician Referral Line at 304.566.8167.
Logan Regional Medical Center
A part of ScionHealth®, Logan Regional Medical Center is a 132-bed acute care facility in Logan, West Virginia that is accredited by The Joint Commission (TJC). The hospital offers a full range of health care services, which include: recently added Da Vinci Robotic Assisted Surgery, the recently expanded Endoscopy Unit, Cardiac Rehab, a 64-slice CT, 24-hr. Emergency Care, Intensive Care Unit, Inpatient and Outpatient Surgery, Laparoscopic Surgery, Digital Mammography, MRI, Nutrition Counseling, Physical Therapy, Radiology, an Inpatient Rehab Center, Respiratory Therapy, a Sleep Disorders Center, Speech Therapy, Respiratory Therapy, Ultrasound, Women's Services and ongoing community education. The hospital continues to focus on improvements to enhance services and fulfill our mission of making communities healthier.
Read All Posts